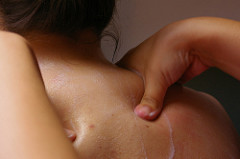 Written By: Bob Walton
Massage is generally considered part of complementary and alternative medicine. It's increasingly being offered along with standard treatment for a wide range of medical conditions and situations.
If you're like me, massages are magically stress relieving, ache repairing and mysteriously energizing all at the same time.
It was about two years ago that my back went out on me; the disk between my L3-L4 vertebrae was degenerating, pressing the nerve and causing me nearly unbearable pain in my hip, and spasms in my QL (quadrilateral muscle) which connects the back ribs to the hip bone. I could barely walk.
Mayo Clinic states massages have "possible health benefits" and that "some studies have found massage may be helpful" in treating tissue or muscle injuries; managing stress; relieving headaches, and even addressing insomnia and anxiety.
I had an excellent sports chiropractor, and was exercising regularly, but nothing I/they did was giving me any relief.  I was nearly in tears when I called a massage therapist, pleading for an emergency appointment. The initial session was excruciating, but provided me merciful relief for the first time in weeks. After several followup sessions my body began healing. That was the beginning of my journey back to normalcy.
"A lot of the scientific research on massage therapy is preliminary or conflicting, but much of the evidence points toward beneficial effects on pain and other symptoms associated with a number of different conditions," writes the NIH, on its webpage "Massage Therapy for Health Purposes." "Much of the evidence suggests that these effects are short term and that people need to keep getting massages for the benefits to continue."
Some forms of massage can leave you feeling a bit sore the next day. But massage shouldn't ordinarily be painful or uncomfortable. In my case, there was lots of communication with my therapist to make sure the right areas were being worked, and so that pain levels were kept tolerable. If any part of your massage doesn't feel right or is painful, speak up right away. Most serious problems come from too much pressure during massage.
To feel better, in my opinion, relieve any discomfort, decrease stress levels, feel more relaxed and have a body that functions more efficiently, schedule regular appointments with your favorite massage therapist. I believe you'll be glad you did.
___________________
CURATED SOURCE:
https://www.acsh.org/news/2017/10/25/are-massages-beneficial-what-we-know-and-what-we-dont-12025
PHOTOS:
Karolina Kabat – Shoulder Massage